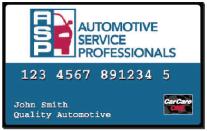 The ASP CarCareONE Consumer Credit Card Program was developed to help Automotive Service Professionals increase sales and profits.
PROGRAM INFORMATION
The ASP Credit Card Program was developed for Automotive Service Professionals to provide consumers with an alternative method of paying for parts and repair services. Used properly, Automotive Service Professionals can sell more complete repairs.
CONSUMER FEATURES/BENEFITS
No annual fee
Dedicated line of automotive credit (keeps other cards available for other purchases)
Immediate application processing (approval in less than two minutes)
Extended payment terms (90-day, 6-month and 12-month same-as-cash on qualifying purchases)
Low monthly payments
FREE roadside assistance for twelve months (towing, flat change, fluid replacement, lock-out service and battery boost)
ASP FEATURES/BENEFITS
Increased sales and profits (more complete repairs)
Lower processing fees than Visa, MasterCard and American Express
Reduce receivables (alternative payment method, increase cash flow)
Increased wallet share (your business name on each card issued)
Higher purchase amounts (dedicated line of automotive credit)
More repeat business (increased customer loyalty)
MATERIALS AVAILABLE
Customized equipment provided for processing (also processes Visa, MasterCard, American Express and Discover)
Point of Sale kit includes applications, poster, roadside assistance brochures and other valuable sales tools
Program brochure explaining all features and benefits
Enrollment kit with merchant application and pricing and discount sheet
Testimonials
Ron B.
I had a "low tire pressure" light come up while driving. Searched the web for an Audi dealer (car is a 2017 Audi A3) and discovered the nearest dealer is at least 30 minutes away. Decided to look for a local shop and found Mike's Auto Repair to be nearby. Arrived a few minutes before closing time but Mike still took my car into the shop. They checked all tires and adjusted 2 tires that were low and brought them to proper pressure. Additionally, they put the car on their lift and checked the tires for nails / screws - none were found. When asked: "how much do I owe you?" the answer was "nothing". In today's day and age it is rare to find such treatment and I am going to come back and use Mike for all my routine oil and brake services ! Highly recommend this shop. Thank you Mike for your help.
view all reviews