GUARANTEES
The North American Repair Warranty Program covers the following types of repairs and services:
Air Conditioning, heating and climate control systems.
Engine cooling systems.
Engine performance, drivability, services and repair.
Emission control system.
Fuel systems.
Electronic engine management system and other on-board computer systems, (engine, body, brake and suspension computers), Cruise control systems.
Brake system.
Starting and Charging systems.
Electrical systems.
Exhaust system.
Ignition system.
Steering/suspension systems, wheel bearings, CV joints/U-joints, half-shafts and drive shafts.
Other minor repairs.
12 months/12,000 miles parts and labor.

Click here to find out more about our warranty!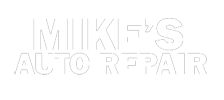 I had a "low tire pressure" light come up while driving. Searched the web for an Audi dealer (car is a 2017 Audi A3) and discovered the nearest dealer is at least 30 minutes away. Decided to look for a local shop and found Mike's Auto Repair to be nearby. Arrived a few minutes before closing time but Mike still took my car into the shop. They checked all tires and adjusted 2 tires that were low and brought them to proper pressure. Additionally, they put the car on their lift and checked the tires for nails / screws - none were found. When asked: "how much do I owe you?" the answer was "nothing". In today's day and age it is rare to find such treatment and I am going to come back and use Mike for all my routine oil and brake services ! Highly recommend this shop. Thank you Mike for your help.
Ron B.