Tire Alignment and Tire Rotation Services
Correctly aligned tires will reduce tire wear and ensure that your vehicle travels without "pulling" to one side or the other. Let Mike's Auto Repair's certified tire specialists rotate and align your car's tires during your next routine maintenance service. Our technicians use state of the art equipment to thoroughly examine your vehicle's tires for uneven wear, cracking, or slow leaks.

Avoid uneven tire wear and extend the life of your tires with a fast and affordable tire alignment at Mike's Auto Repair in Hanover. Call us today at 410-850-5700 and schedule an appointment.

Our alignment services:
Alignment
Wheel alignment (or simply alignment) is standard car maintenance that involves adjusting the angles of the wheels so that they are set to the manufacturer's specifications. The main purpose is to let the suspension and the steering systems operate at their desired angles - this reduces tire wear. Alignment is a complicated process and not all mechanics get it right. To have experts handle your car's alignment, visit Mike's Auto Repair.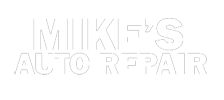 I had a "low tire pressure" light come up while driving. Searched the web for an Audi dealer (car is a 2017 Audi A3) and discovered the nearest dealer is at least 30 minutes away. Decided to look for a local shop and found Mike's Auto Repair to be nearby. Arrived a few minutes before closing time but Mike still took my car into the shop. They checked all tires and adjusted 2 tires that were low and brought them to proper pressure. Additionally, they put the car on their lift and checked the tires for nails / screws - none were found. When asked: "how much do I owe you?" the answer was "nothing". In today's day and age it is rare to find such treatment and I am going to come back and use Mike for all my routine oil and brake services ! Highly recommend this shop. Thank you Mike for your help.
Ron B.