Land Rover Auto Repairs and Maintenance in Hanover
Come to Mike's Auto Repair for Land Rover Repair Services
Repair and maintenance for all Land Rover make and models including:
Land Rover Range Rover
Land Rover Discovery
Land Rover Velar
Here at Mike's Auto Repair, located in Hanover, our staff are Land Rover experts. Our staff uses the latest auto repair and maintenance systems and technologies to ensure your Land Rover is quickly fixed and back on the road before you know it. At Mike's Auto Repair we are ready to answer any question you have about Land Rover maintenance, diagnostics, and repair costs.
Because Land Rover is synonymous with luxury SUVs that can go anywhere, they require highly specialized repair and service. To maintain both the opulence and rugged engineering of a Land Rover you need Mike's Auto Repair's highly skilled technicians who can leverage the latest in computers systems and diagnostic technology. The Land Rover off-road prowess is legendary and stands as a benchmark for other luxury off-road vehicles to achieve. There are few brands that offer the on and off-road flexibility that Land Rover does. But a vehicle with such diverse driving applications like the Land Rover needs regular maintenance schedule. Mike's Auto Repair in Hanover is here to help.
While Land Rovers have a go-anywhere attitude, some problems can arise. Common Land Rover repairs include electrical and mechanical issues, which often affect older model year SUVs. However, proper care and regular maintenance can keep your Land Rover on the road for years to come. When you bring your Land Rover to us, you will be greeted by our friendly and knowledgeable repair service center employees eager to answer all your questions. The next time your Land Rover SUV needs any repairs or regular maintenance, be sure to think of Mike's Auto Repair. We are just a phone call away. Call us today at 410-850-5700 or stop by at 7466 New Ridge Rd
Suite 7 in Hanover, MD, 21076.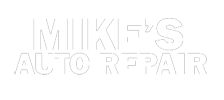 I had a "low tire pressure" light come up while driving. Searched the web for an Audi dealer (car is a 2017 Audi A3) and discovered the nearest dealer is at least 30 minutes away. Decided to look for a local shop and found Mike's Auto Repair to be nearby. Arrived a few minutes before closing time but Mike still took my car into the shop. They checked all tires and adjusted 2 tires that were low and brought them to proper pressure. Additionally, they put the car on their lift and checked the tires for nails / screws - none were found. When asked: "how much do I owe you?" the answer was "nothing". In today's day and age it is rare to find such treatment and I am going to come back and use Mike for all my routine oil and brake services ! Highly recommend this shop. Thank you Mike for your help.
Ron B.