Chrysler Auto Repairs and Maintenance in Hanover
Come to Mike's Auto Repair for Fast and Affordable Chrysler Repair Services
Repair and maintenance for all Chrysler make and models including:
Chrysler Pacifica
Chrysler Voyager
Chrysler Grand Caravan
When you visit Mike's Auto Repair, our friendly staff are trained to diagnose and repair Chrysler vehicles. Our staff will also answer any concerns you have about your Chrysler car or truck, including questions about repair costs and regular maintenance.
The highly trained pro mechanics at Mike's Auto Repair are knowledgeable about Chrysler's legendary engineering as well as the newest advancements. The latest Chryslers drive like an expensive luxury vehicle but are affordable to repair and maintain. Mixing luxury, performance and affordability is what Chrysler does best. Chrysler automobiles offer sophisticated computer systems to optimize everything from suspension to engine performance to AC cooling in a wide range of vehicles at a lower cost than competitors.
At Mike's Auto Repair we continue Chrysler's commitment to affordability with cost effective maintenance and auto repairs that utilize the latest technology. We have only seen the popularity of Chrysler's wide range of vehicles grow. Chryslers can face a few hiccups like any vehicle, with most repairs relegated to the powertrain and transmission performance.
At Mike's Auto Repair in Hanover we created service offerings over the years to provide Chrysler owners with top quality and affordable auto maintenance and repairs. If you are looking for a reliable auto shop to repair or maintain your Chrysler, Mike's Auto Repair in Hanover is the place to go.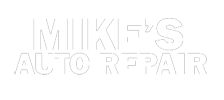 I had a "low tire pressure" light come up while driving. Searched the web for an Audi dealer (car is a 2017 Audi A3) and discovered the nearest dealer is at least 30 minutes away. Decided to look for a local shop and found Mike's Auto Repair to be nearby. Arrived a few minutes before closing time but Mike still took my car into the shop. They checked all tires and adjusted 2 tires that were low and brought them to proper pressure. Additionally, they put the car on their lift and checked the tires for nails / screws - none were found. When asked: "how much do I owe you?" the answer was "nothing". In today's day and age it is rare to find such treatment and I am going to come back and use Mike for all my routine oil and brake services ! Highly recommend this shop. Thank you Mike for your help.
Ron B.