Hyundai Auto Repair and Maintenance Services in Hanover
Bring your car to Mike's Auto Repair for foreign and import repair services including these top Hyundai makes and models:
Hyundai Tucson
Hyundai Sonata
Hyundai Accent
Mike's Auto Repair in Hanover provides reliable and affordable service for Hyundai vehicles. Hyundai, the South Korean automaker, has ushered in a design renaissance. They continue to move upscale, wading into the entry-level luxury market with great success. Hyundai is dedicated to developing cars that are reliable, stylish and won't break the bank.
Like any vehicles, Hyundai vehicles can face problems with age, including with the engine and transmission. Of course, the problems your Hyundai may face depends on the year, make and model of your vehicle.
Like Hyundai, Mike's Auto Repair is dedicated to repair services that are both dependable and affordable. Dedication is just one trait our well-trained automotive repair and maintenance technicians put into every repair and service they complete. Knowledge and experience help our Hyundai service technicians complete a multitude of service tasks. Our team of technicians is ready to diagnose and repair any Hyundai vehicle problem you bring us. You can schedule an appointment today by calling us, Mike's Auto Repair, at 410-850-5700.
Mike's Auto Repair has a staff of technicians and service representatives ready to diagnose and fix your Hyundai. Whether you have an auto repair problem or just need regular general maintenance, we will get you back on the road quickly and affordably. You can visit us at 7466 New Ridge Rd
Suite 7, Hanover MD, 21076, or call us at 410-850-5700 to schedule an appointment.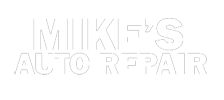 I had a "low tire pressure" light come up while driving. Searched the web for an Audi dealer (car is a 2017 Audi A3) and discovered the nearest dealer is at least 30 minutes away. Decided to look for a local shop and found Mike's Auto Repair to be nearby. Arrived a few minutes before closing time but Mike still took my car into the shop. They checked all tires and adjusted 2 tires that were low and brought them to proper pressure. Additionally, they put the car on their lift and checked the tires for nails / screws - none were found. When asked: "how much do I owe you?" the answer was "nothing". In today's day and age it is rare to find such treatment and I am going to come back and use Mike for all my routine oil and brake services ! Highly recommend this shop. Thank you Mike for your help.
Ron B.